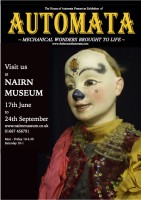 Exhibition of Automata
Exhibition of Automata, 'Mechanical Wonders' an interactive and exciting event currently on show until the 24th September at The Nairn Museum in Scotland.
Entry details at www.nairnmuseum.co.uk
"Automata are mechanical objects endowed with life by ingenious means."
The House of Automata is a specialist automata company run by Michael and Maria Start. We restore, advise and talk about, and make automata to commission. The House of Automata also buys and sells automata, over the last 20 years many spectacular and beautiful pieces have passed through our hands.
We have in depth knowledge regarding the history of automata and hands on expertise of the mechanisms of most types of antique & modern automata. Our clients include collectors, auction houses, the media and museums.
We also hire and advise on automata and horology to the film industry. Michael and Maria jointly present lively and popular lectures and demonstrations of automata, using real examples.
Michael is an award winning trained Horologist (Clockmaker) and Maria is a skilled sculptor and painter. We are passionate about our subject and are happy to give advice on any automata question no matter how basic or complex, just drop us an email, include pictures if possible. To shop and buy automata visit our For Sale section HERE.
The House of Automata has a busy restoration workshop and a showroom on the edge of the Highlands of Scotland, visitors welcome by prior arrangement.
Blog
New Website
The Classic House of Automata website, much loved and rich in content, has now become a bit of a museum piece. The new site aims to be less of a cluttered victorian mantelpiece and should be easier to navigate and explore. Gone is that feeling of 'falling down a rabbit hole' and becoming disorientated in a mechanical wonderland as soon as you click to enter. Gone is the secretly embedded 18th century mechanical singing bird song composed by Haydn (probably). On the principle that 'less is more' we are going to pack in so much 'less' you will wonder how we ever
Read More
For Sale
We have a selection of automata for sale or hire. Take a look and if anything takes your fancy please contact us for details.
Gallery
Over the years we have worked on many fantastic projects. Please take a look at some of our finest moments.