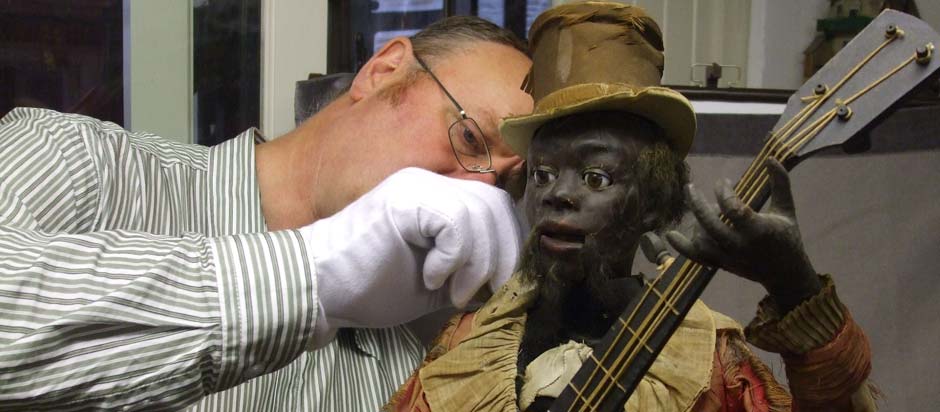 The House of Automata, 32 High Street, Forres, IV36 1DB
E: magic@thehouseofautomata.com T: 07790 719 097
Open Mondays, Tuesdays and Wednesday 10-4pm
(other times by appointment).
CLOSED for an event from September 25th, open again on October 4th
GIFT SHOP
THE GIFT SHOP - Free to enter and featuring automata kits, magic, puzzle boxes, musical boxes, animated cards and scientific and technical toys in a shop of unusual and exciting presents at all price levels.
The shop also offers a peek into the workshop and has some coin operated exhibits from the exhibition to play while you browse including mechanical singing birds, a victorian diorama and a huge music box.
EXHIBITION
THE AUTOMATA EXHIBITION - See hundreds of Automata and the mechanisms that move them. Wonder at the artistry of makers who turn machines into poetic expressions of life itself.
Interactive Automata to operate yourself.
The 'Dinky Dozen' search for all ages, (12 micro-automata hidden very well) .
Rare & fragile antique Automata with QR code films showing automata performing.
Open Monday, Tuesdays and Wednesdays 10-4 or by appointment.
CLOSED for an event from September 25th, open again on October 4th
£7 adults /£5 children
Please allow about an hour for your visit - Some steps and uneven surfaces (ramp available).
~~~~~~~~~~~~~~~~~~~~~~~~~~~~~~~~~~~~~~~~~~~~~~~~~~~~
AUTOMATA EXPERIENCE & workshop tour
An opportunity to see rare antique automata perform right in front of you. From Acrobats to Singing Birds, a variety of surreal mechanical treasures. Stare into the eyes of a 150 year old Tiger as he growls and then LEAPS!
Informal talk with tour and demonstrations of some of the finest automata performing in front of you.
Behind the scenes tour of the workshop, seeing tools, techniques and the latest restorations on the bench.
Explore the Interactive exhibition of modern automata

Duration: approximately one hour
£16 per person (contact us for family or group rates).
The tour is for a minimum of two people and a maximum of 8 persons per tour. Tours can be booked for any day or time including evenings.
To book: magic@thehouseofautomata.com or call T: 07790 719 097