All tickets for this event are now Sold Out.
The master of creative crazy contraptions Heath Robinson has a museum devoted to him and his work. It is located in Pinner on the outskirts of London (Pinner tube station) and Michael Start of The House of Automata is delighted to present a talk and demonstration on the 16th of August at 6.30pm. The event will include performances of rare antique automata and an insight into the weird & wonderful world of the objects and their owners, its going to be fab!  The event is followed by an opportunity to enjoy the Crafts Councils excellent automata exhibition 'A Curious Turn' ……. featuring modern automata.    –     For more information:  Heath Robinson Museum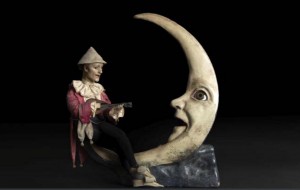 "Tell me about Automata" say's Mr Moon.