This summer the museum plays host to a cast of curious clockwork characters from the House of Automata.
We invite you to join us for a descriptive tour of the exhibition and a hands-on automata performance, tailored to visually impaired visitors.
Come along to experience the magic of mechanical life.
The automata will come to life in the expert hands of Michael and Maria Start, including a tiny feathered bird who sings 170-year-old songs.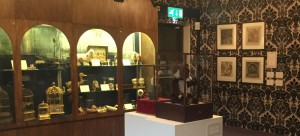 11.00am – 12.30pm
Friday 28th July 2017
Places are limited.
Book by email
Museum of Childhood, 42 High Street, Edinburgh EH1 1TG
Directions to Museum http://www.edinburghmuseums.org.uk/Venues/Museum-of-Childhood/Visitor-Information/Find-Us