The Nairn Museum is located in Scotland and has a great Drawing Room. We exhibited there some years ago and doubled their visitor numbers.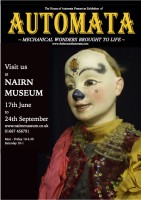 It was a pleasure to repeat the event with some of our reserve collection. The video is at 2X speed for a youtube audience, if you want to see it at actual speed open – settings – view –  .5 speed. The birds will have a deep voice as I reverted to normal speed just for that section!
If you are interested in our Travelling exhibition, contact us and we will do our best to help, we can tailor to suit, we have exhibited in a variety of locations from a Galleries to a Bar, and if conditions are right we can exhibit some crowd pulling, rare and impressive automata that attract publicity easily.